First off, to all record label heads, etc... I know this podcaster likes it when you guys contact me, especially if you have music I might be interested in but am clueless that you even exist (or I may have a clue and you contact me anyway) or if I send an email and you respond.
Here's why I say this: How many different labels (record, net, creative commons, etc.) are there out there with large subsets of artists who fall beneath them?
And this can go for artists or even promotional sites. I've had great contact (both pre-podcast and post-podcast, initiated by me and by my co-conspirators (oooh, not sure if that's the right word I should use) with quite a few heads of labels: Fernando at PublicSpaces Lab, Per Capita records, David at Summer Rain Recordings, Electronic Eel, Bernard at Output Noise, Budabeats, Krieslauf, Dusted Wax Kingdom, Just Plain Ant etc. etc. etc.
To me it means a lot! It means my work is noticed and also gives me a way to touch base with others out there. It also means I'll probably work with you more in the future.
This leads me to my two picks for this post: Autorotation and Panda Transport.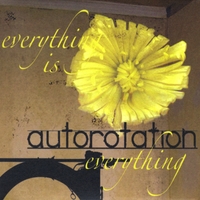 Autorotation's
Everything is Everything
is a sweetly sung album with a tender mix of glitch, instrumentation and melody. If you can imagine this: take Frost's Aggie and her vocals, mix in some Boards of Canada with a dash of horns and guitars and you'll be treated to an LP based in fascination.
The fine folks of
Autorotation
contacted
me
by means of twitter. That message got me curious about their music; so I wandered over to their webpage and listened. I was hooked! They've been very kind (I use that phrase a lot, but it is sincere and not just some cliche I use about individuals I come in contact with) and you will get to hear some of their music on my next podcast coming out soon.
Panda Transport's
Monorail
is described on their website as "[t]he songs are immediate, personal & poppy while retaining the curious experimentation & playfulness so often edited out in today's music." For some reason in my mind the group Flunk comes up... with some Kate Havnevik and maybe some Imogen Heap mixed in to describe their music. It ranges from sweet and tender to pop and floaty to kinda dark... no joke - it has a dark edge to it as well.
Here's how I came in contact: I was searching through my messages on IODAPromonet and there was a direct message from their label. I immediately searched through the rest of the new messages and found them all to be the basic promo stuff I receive most of the time (that does not mean I don't check out that selection of music...). This message from Panda Transport was personal and thoughtful and created a fan out of me before I heard their music. I became excited and checked out their tunes. This also prompted me to email someone, anyone from the group. The person I contacted was the lead vocalist from Charlottesville, VA named Kathy. I would have to place her in the kind and gracious group as well! She's a great conversationalist and has been a dream to work with (don't worry, I feel the same way about Autorotation).
And guess what... you'll get to hear some of their stuff over the next couple of months.
What's the moral of this story? A kind note can go a LOOOOOONG way! Even from this below the radar podcaster/blogger.
* Update 30 Dec 2009:
made some grammatical corrections.
** Update 10 Jan 2009: I learned earlier this morning from the wonderful @pixieguts that Autorotation made it into Dandelion Radio's Top 50 of 2009 with their on "Ginger Pants". Good song, dang good album... really cool folks! Congratulations :)
*** Update ibid.: If you haven't checked out Panda Transports page, they have my brief review of their latest listed... they're gonna make me blush!