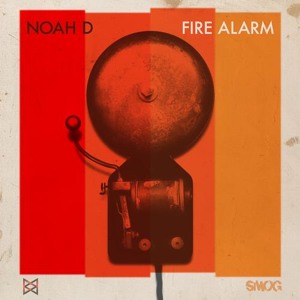 Great music doesn't have boundaries.
Let's start with that statement. It's a bold statement and one which I think fits Noah D's
Fire Alarm.
Growing up and living in rural areas, music access can be fairly limited. When I discovered grunge, post grunge and rock it was after the boundaries of music broke down and it was already rooted in rural America, ie I was 2 years too late. Electronic music hit me in the late 90s and the tunes "spoke" to me and led me to discover a new world of listening pleasure. Electronic is slowly making in roads in these parts of rural Idaho in the vein of tunes from Skrillex, Deadmau5 and a few others. A lot of metal heads in the country like the brashness of the beats and the "brutality" of the drops. If you are well groomed in the ways of dubstep, this is only ONE facet of a very broad sound.
What makes this EP one that doesn't have any boundaries? It's the album's accessibility. I'm sure you could be in Croydon, Paris, Calgary or Boise, ID, and enjoy the tunes produced on this album.
Fire Alarm
has an encompassing sound quality which can say something to the Bros and to those who want a tamer version of 140 music. A DJ playing a Bro set could drop "Fire Alarm" and the crowd would be happy or DJG (Grenier) could drop "Nuthin2it" or "Limitless" alongside his "Rivet" and would get the same effect. Heck, I'm sure I could take these tunes to some of my friends around here and get quite the reception. Noah D's
Fire Alarm
has great bombastic qualities: big brassy sounds, head nodding beats, and dance floor intensities. There are even some meditative tunes which will move you for times when your feet do not need to be in a club. There is a wonderful West Coast flavor within his synths, 808 madness on the percussions, and infectiously repeatable vocal samples. I can hear in my head a crowd going "Get Out" and "Wuh-Oh" with the lead tune "Fire Alarm."
One statement which I feel sums up Noah D's
Fire Alarm
comes from his closing vocal sample on the tune "Limitless" and it goes like this:
"You know, this music will get bigger and bigger and bigger until it reaches right people. Which to me is the whole world."
If you are a fan of the Dirt First Crew out of Salt Lake City, ElkBeats with Misk and EshOne, the Sin City Crew, or Joker, you will love this album.
You can find where you can purchase the album
here
.