Good heavens, where do I start for this episode of Creative Commons Choosings? There have been so many good ones come out lately that it is hard to choose just a few.
After deliberations with myself, here are my choices!
Various Artists - Number Stations - Public Spaces Lab
First up,
Number
Stations
. I've ranted and raved about this album for the past month and you'll get to hear a track on the upcoming Chilldown Period.
See, what did I tell you - that's a freaking cool cover picture. The mystery of where the antenna ends mixes into the cryptic nature of just what Number Stations are. Made by Robot is the master behind this collaboration, getting help from great musicians who stay true to the
sounds
which come from these stations with songs ranging from dancehall sounds to interpretive mixes (
source
). A few of these songs have grown on me (either for repetition of playing them to just listening more than the initial play) and I'd be lying if I did not mention how much this album has influenced me - I know, in just a short time. Heck, if Pink Floyd were a new band today, I could see them do a song for this compilation.
But that's just me!
Just Plain Ant - Songs About Something XE - Bloc Sonic
The original of this is album has been another influence on me. I've been a fan of Ant's since the first time I heard his collaboration with Oh.Bliv on "Black Soap". He's also been one of my "Wrap Your Ears Around This Artist" and he runs his own netlabel
Just Plain Sounds
.
"Songs About Something" is a gem; no other way to put it. When I heard about the Xtended Version, I became excited. I believe Ant put out a preview track on Soundcloud a week before the album dropped which was quality! "
Songs About Something XE
" hit the interwebs a few days ago and it does not disappoint. There are some nifty remixes by Sleaze, Oh.Bliv and Rowan plus some great original material added to the second disc.
I don't want to get too hyperbolic, but the XE continues to make the original mythic!
Airnino - Spacesuite Radio - Retrofuturism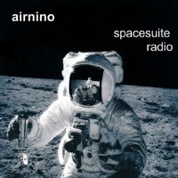 I was digging around the blog
GoodNetlabels
and came across this little nugget of CC music goodness:
Airnino's
"Spacesuite Radio" from the
Retrofuturism
netlabel.
Whew, this is one of those we'll-take-sounds-of-the-past-so-we-can-look-forward albums. It works, oh believe me. If it didn't, you would not be reading about it right here. It's smooth, soulful, and an "imaginary trip" as the voice sample in the second song lets you know. I'll be contacting Retrofuturism fairly soon to let them know I plan on using one of Airnino's songs in an upcoming episode.
Another factor in my choosing this is the chilldown factor involved. He's flatlining the joint with this album. Just like Sleaze's "
A Rose, By Any Other Name
", "Spacesuite Radio" is another splendid mental respite for my work day.
Junior Wong - Factory Jams - Just Plain Sounds
I finally did myself a favor and checked out the one and only Junior Wong's "The Spaceman Chronicles" about a month ago and found myself pleased with the beats he makes. Pleased isn't the word. Enthralled, maybe? You know what... let's throw that album in with this article.
Junior Wong - The Spaceman Chronicles - Just Plain Sounds
Now, the universe is at balance.
Back to where we were. "
The Spaceman Chronicles
" is just pure silk. Smooth beats, unpretentious sounds, and a few bangers mixed in (i.e. Bush Bread). By the time you go through the album, you hardly realize its over. That's not a statement of boredom or jadedness, but to show just how well the songs mesh together.
It's that good.
Then I was either on twitter or checking out Just Plain Sounds when I caught word that Junior's beat album "
Factory Jams
" dropped. Of course, being the fanboy I am of nice music, I immediately downloaded the album and started listening. He's batting 2 for 2 here.
It's another release of pure silk from the "Composer in Exile" (
source
). Plus one more great example of the quality of work coming from JPS and also the beauty of simplicity.
So, do yourself a favor and get it!
That's it for right now... I'll have to save more releases for future dates.
Hopefully you all will enjoy these releases.
Oooo, forgot to mention, you'll get to hear one of the "Factory Jams" soon. I mean very soon!
* Update 7 February 2010 - made some spelling corrections plus some grammatical and repetitious corrections.